Agatronic M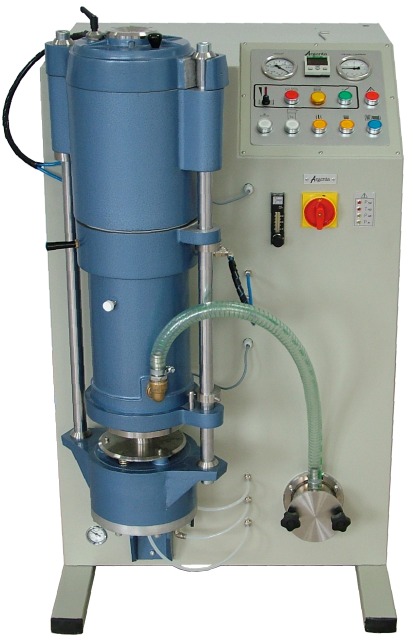 Vacuum-Pressure Casting Machine Agatronic M was designed by Argenta for casting workshops eager to use the newest technological achievements of industrial automation in their manufacture. The machine presented is a full automated casting unit working under the control of a microprocessor PLC controller cooperating with sensors and other mechanisms which guarantee the repetition of processes.
The casting process takes place in a hermetically sealed chamber with the help of protective gases, which ensures high quality of the cast. This exceptional quality is also achieved by the function of automatic 'rinsing' of the chamber during which the air is drawn into the inside before metal is melted, and while it is melted the protective gases are blown in. The machine is equipped with the gas flow adjuster 'rotameter', which enables the control of the amount of agents provided during the process. What is more, anaerobic atmosphere prevailing during the machine operation contributes to the longer life-span of the crucible and the stopper.
Temperature of the process is controlled by PID adjuster. Fuzzy Logic technology applied in the adjuster production ensures the adjustment with minimal deviation, together with fast fixing of the value set during the adjustment process. Temperature is measured in a graphite stopper placed at the bottom of the crucible, on a pivot of the outlet opening. It enables precise measurement of melted metal temperature. The course of the process is monitored thanks to the big and clear control panel which was designed according to all rules of industrial automation. Keys and indicator lights constitute a clear image of the performed function and the values of pressure are shown on big, glycerine manometers.




In the standard equipment of the machine there is also a set which enables granulation of the alloy. The application of a special crucible with the granulating 'filier' enables obtaining perfect balls with small diameters. Initiating of an appropriate function in the machine ensures cyclic and controllable release of melted metal into the container with cooling liquid, thus the obtained granulated substance is homogeneous, without drops of liquid closed in granulated balls. It does not present any problems with later weighing out of the alloy and its melting.


Agatronic M
casting machine is subjected to a two-year guarantee period and a 24-hour service in
Poland
. Moreover, all services like transport in the
territory
of
Poland
, the first putting into operation, together with casting and training, take place free of charge in the customer's seat. Any questions concerning the aforementioned product can be sent to the following e-mail address:
marcin@argenta.pl
---
Technical data:
Rated voltage:
400V/50Hz
Rated power:
10 kW
Operating temperature:
1200 oC,
1400oC (option)
Demand for gas:
120 l/h
Type of thermocouple:
K, S (option)
Crucible capacity:
280 cm3
Flask:
ø120x300mm
Productivity of the pump:
20 m3/h
Flow gas regulator:
in standard
Mediums controller:
in standard
Granulator unit:
in standard
Mixinging of the alloy:
elektromagnetic
Communication port:
RS232
Outer dimensions:
650x800x1200 mm
Weight:
180 kg
---
Comparasion of two types:
| | | |
| --- | --- | --- |
| | Agatronic M | Agatronic W |
| Rated voltage | 400V/50Hz | 230V/50Hz |
| Rated power | 10kW | 4kW |
| Operating temperature | 1200oC (1400oC) | 1200oC (1400oC) |
| Crucible capacity tygla | 280 cm3 | 75 cm3 |
| Flask | ø120x300mm | ø85x220mm |
| Flow gas regulator | in standard | option |
| Mediums controller | in standard | option |
| Granulator unit: | in standard | option |
| Mixinging of the alloy | elektromagnetic | elektromagnetic |
| Communication port | RS232 | RS232 |
| Outer dimensions | 650x800x1200 mm | 500x400x1030 mm |
| Weight | 180 kg | 85 kg |